Contact Us Now, Call Today!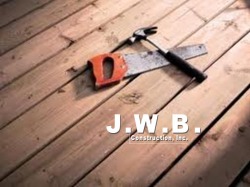 J.W.B. Construction, Inc.
3807 Cavalier Drive
Garland, TX 75042
---


972.487.0198 Office
972.494.2624 Fax
J.W.B. Construction, Inc. has been based on referrals and return customers, we never take our good reputation for granted. Whether your projects are large or small.

---
We want you to be able to work with us on your time, either by phone or email.
When you send an email to admin@jwbconstruction.com
This e-mail address is being protected from spam bots, you need JavaScript enabled to view it
, you'll get a response back.
Or call us at our Office at 972.487.0198.

We will gladly give References upon Request

---
Choosing the Right Contractor
*If you have a large Project we suggest calling at least 3 Contractors
*Set up Appointment with the Contractor
*Spend time going over what exactly you need or want done
*Make sure to ask as many questions as needed
*Develop a specific Work Scope - Description of Work to be performed
*Listen to ideas and suggestions the contractor has to offer
*Allow 1-4 days (depending on the size of the Project) for Contractor
to give you the Proposal
*References upon Request
*Insurance Upon Request
*Evaluate Proposals from Contractors
*Choose the Right Contractor and Schedule the Project

*Remember: The low bidder is not always the best qualified Company*